Description
Little Engine Wines (Naramata Bench)
For me, no trip to the Naramata Bench is complete without calling into Little Engine Wines for a taste and chat with the team. I usually take a good chunk of time to settle into one of their comfy lounge chairs, savour the flavours and take in their beautiful vineyard and Okanagan Lake vistas. I first went to Little Engine in 2017 when I started wine guiding in the Okanagan Valley. I really appreciated the on-site tasting experience which proprietors Steven and Nicole French wanted to deliver to their customers. It kept bringing me back.
Since opening their tasting room in 2016, Little Engine has quickly made its mark as a wine traveller destination, producing premium drops and garnering a strong following. With Steven (who I'm speaking with amongst the barrels in one of the images here), Nicole and winemaker Scott Robinson at the helm, this small family winery's dedication is underpinned by the French's motto: "Dreams don't come true, dreams are made true". It's the Little Engine that could. And it has.
I love the aromatics, textures and depth of Little Engine wines. They sit with me long after the first sip. You can easily stash these particular wines away for a while and give them more time, but I'd be pretty tempted to crack them open now and share them this holiday season. This curated selection makes a special gift, replete with cool embossed labels and arriving in a unique Little Engine Gift Box.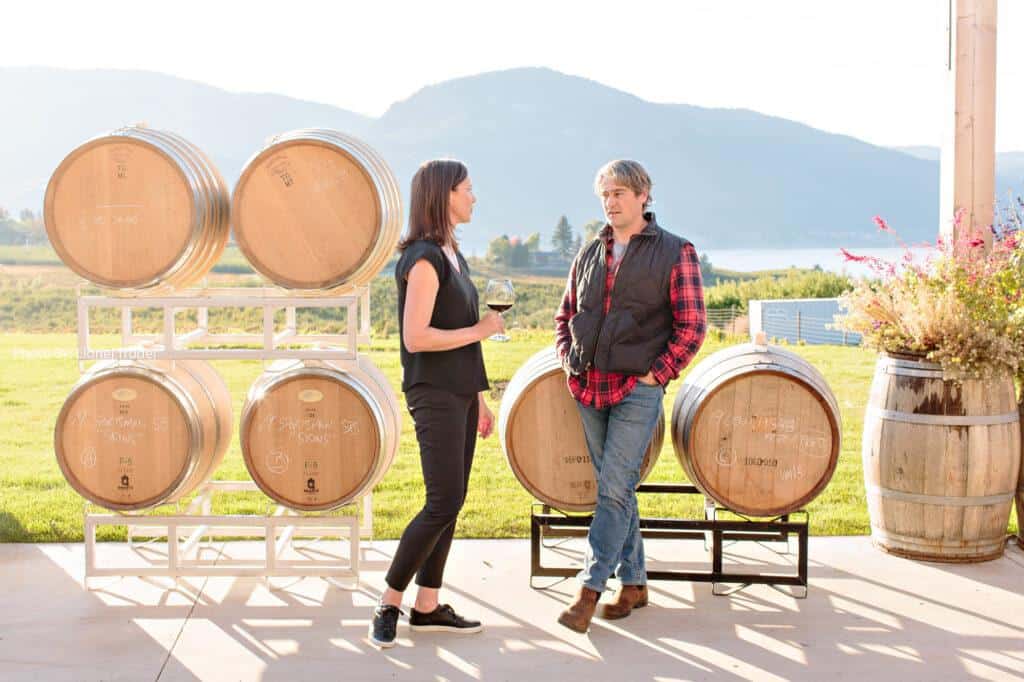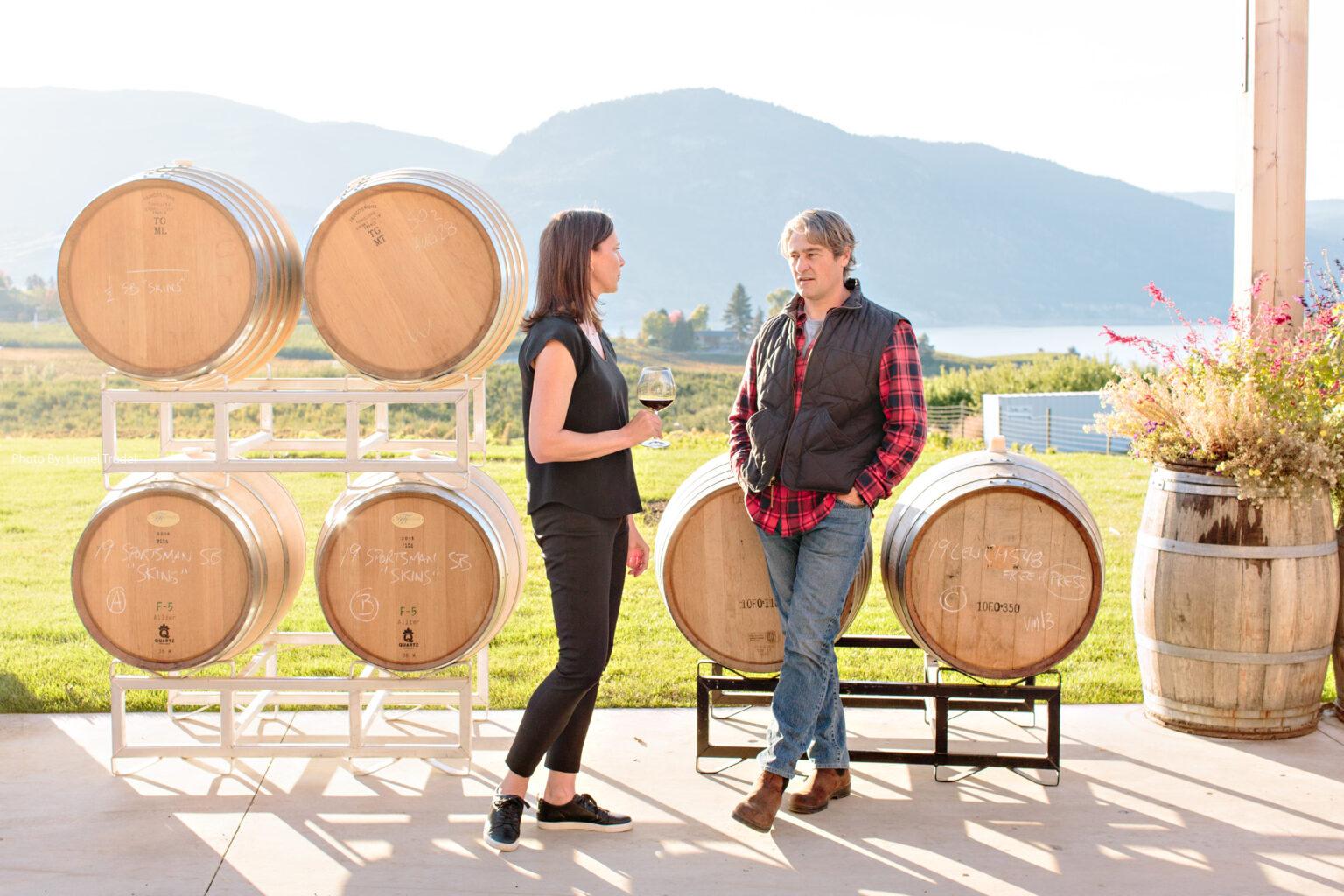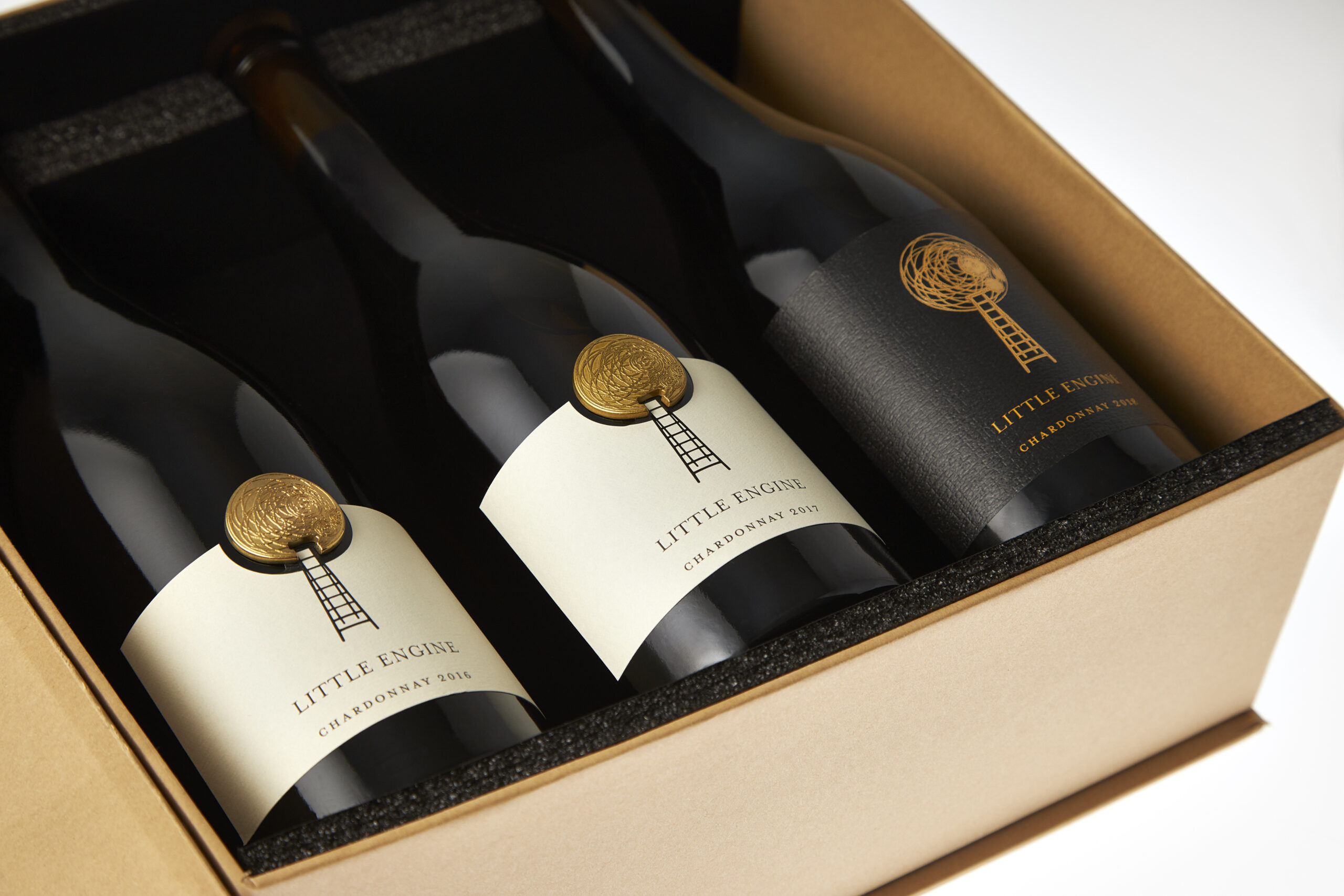 Your Exclusive Offer from Little Engine Wines
This exclusive Little Engine offer is a special 3-bottle holiday gift pack which contains my current faves from them. 
A medley of three classic single grape varieties (Sauvignon Blanc, Chardonnay and Merlot), there's something for everyone here. These wines are ready to be enjoyed and cracked open this holiday season. I love all of these drops on their own, but they'll pair nicely with all sorts of seasonal fare too. Of course there's also ageing potential here if you or your gift recipient want to hide them away for a while.
The eye-catching bottles will grace any table and are perfect host gifts (even if we're just hosting ourselves).
The wine will be delivered in a special Little Engine Gift Box which includes a bit of the winery's story on the inside cover. It can be sent to you or directly to your clients, colleagues, friends or family. 
2019 Silver Sauvignon Blanc – A great example of what  BC can do with Sauvignon Blanc. Dry with fresh crisp acidity, lemon and grapefruit citrus tones move towards floral tropical ones as it warms in your glass. Juicy with depth and elegance and a round, medium-bodied mouth feel. Made from a blend of grapes picked at different times, fermented mainly in stainless steel (with 10% in neutral oak) and four months on light lees at the end. (Drink now to 2023).
2017 Gold Chardonnay – Currently one of my favourite BC Chard picks, this particular wine is showing beautifully right now and is a great gift for white Burgundy lovers. Medium gold in colour with classic layered lemon, butterscotch and nutty tones. Creaminess balanced with vibrant acidic structure and long dry finish. Mainly Naramata Bench estate fruit with 100% French oak barrel ferment, partial malolactic fermentation, 16 months of barrel ageing with lees stirring along the way. (Drink now to 2023).
2018 Gold Merlot – Rich, concentrated and round, this full-bodied red is a perfect winter warmer right out of the bottle. Deep ruby with dark cherry, cassis and plum tones, with some vanilla, mocha and a touch of something herbal. Structured with fine tannins. 100% French oak (new and old) and maturing for 16 months before bottling. Grab the rib-eye, braised short-rib or decadent chocolate cake. (Drink now to 2028).
Each Little Engine Gift Box will include a printed Wine Card from me with a few notes about the wines and  some pairing ideas.
NOTE: You will be receiving "member only" pricing from Little Engine Wines for this exclusive offer being made available to you here.  
THANK YOU ALL FOR YOUR INTEREST IN THIS SPECIAL HOLIDAY PACK! THIS SPECIAL OFFER HAS NOW CLOSED. STAY TUNED FOR THE NEXT TTWC OFFER.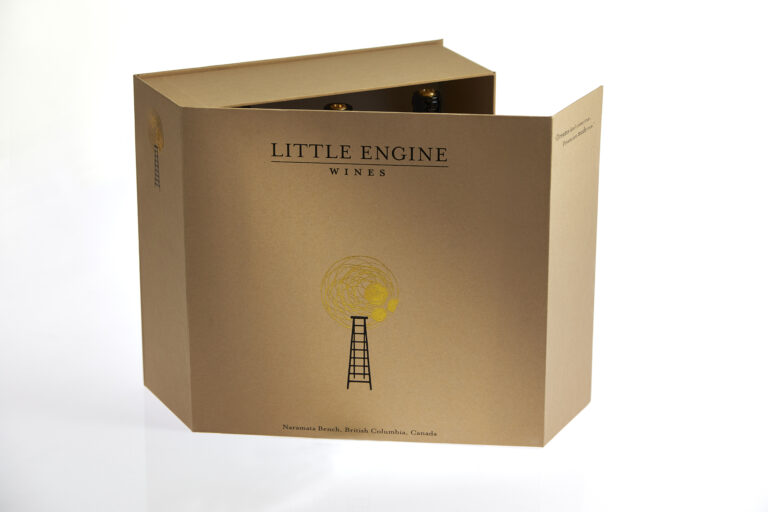 Offer & Purchase From Winery
Please note that this offer is extended to you by Little Engine Wines. If you choose to order any of this particular wine selection, you will be purchasing the wine directly from Little Engine Wines, Licensee #306949 (851 Naramata Road, Penticton BC V2A 8V1).
PLEASE NOTE THAT THIS EXCLUSIVE OFFER HAS NOW CLOSED. STAY TUNED FOR THE NEXT TTWC OFFERING!
Your wine will be delivered to you by ATS, Canada Post or other carrier chosen by Little Engine Wines. (Wine purchased pursuant to this offer will only be shipped to British Columbia addresses).
Please include any special delivery requests or instructions in the Delivery Notes portion of the order form.