Description
SpearHead Winery (South East Kelowna)
Time to head north and to mid-Okanagan Lake my friends! Let's check out some cooler climate growing conditions and visit the South East Kelowna region where BC's wine industry pretty much got its start. French priest Father Pandosy planted the first vines around here in 1859 (for sacramental purposes of course) and more widespread cultivation started from 1928. Some of the oldest BC plantings of Riesling are in these parts. 
But this TTWC spotlight is on some Chardonnay and Pinot Noir plantings in the area which I love and which illustrate how Burgundian varieties can thrive here.
Ok, so maybe you're thinking: "But T, I already know that BC can do Chardonnay and Pinot Noir well". Right, but how many wineries have you visited recently where you get to sit down at a table in their small idyllic farmland spot and taste a flight of 4 to 6 different styles of Pinot Noirs which they've made during one vintage? (and not counting your cellar door visits in France, Oregon or New Zealand!).
Enter SpearHead Winery. This relative newcomer has become a Pinot Noir specialist since opening in 2010. Elevated in the East Kelowna benches, SpearHead's seven acre "Gentleman Farmer" Home vineyard is a converted apple orchard benefiting from moderating effects of nearby Okanagan Lake, a south facing aspect, mixed rich soils and low risk of frost – so pretty ideal conditions for the "heartbreak grape" (as well as Riesling, Pinot Gris and Chardonnay which they also produce).
SpearHead's mission is to make "vineyard designated" wines which express the sense of place from which they come. In addition to using their own Estate fruit, SpearHead also sources quality grapes from West Kelowna, Summerland and Naramata vineyards. Layered on top of that careful site selection is the artistry of choosing which clones to grow and use to make their Pinot Noir and Chardonnay. Some of their wines come from single clones, some are blends of clones (including Dijon, California heritage and Pommard clones). Each clone brings its own set of attributes to that liquid art in your glass. That's why a tasting flight of wine made from the same grape variety can be such an amazing experience – no two vineyards or medley of clones are alike and you can see and feel the difference.
Some of my legal buddies may know Vancouver based lawyer and SpearHead co-founder Bill Knutson QC, who with his wife Dame Marina Knutson (Les Dames d'Escoffier) (both on the winery's patio in the image on the right) have been building this vision. Highly regarded winemaker Grant Stanley (seen amongst the barrels in the image above right) came on board in 2017, bringing years of experience in New Zealand, Oregon and with other BC Pinot Noir makers.
Awards are rolling in and I feel that SpearHead's just getting started. Watch that space.
With the SpearHead three-bottle pack I've curated, you get to experience a few different vineyard sites and clones through award-winning Chardonnay and two very different styles of Pinot Noir. I love the elegance and complexity here wrapped with our BC hallmark fresh acidity.
Speaking of accolades and being wrapped, did I mention that a DELICIOUS handcrafted chocolate is included in the mix? Yes, a beautiful Madagascar Dark Cherry & Tonka Bean Bar from Karat Chocolate – a small but mighty award-winning chocolatier  based in Kelowna (and about a fifteen minute drive from SpearHead). Can't get more local than this pairing.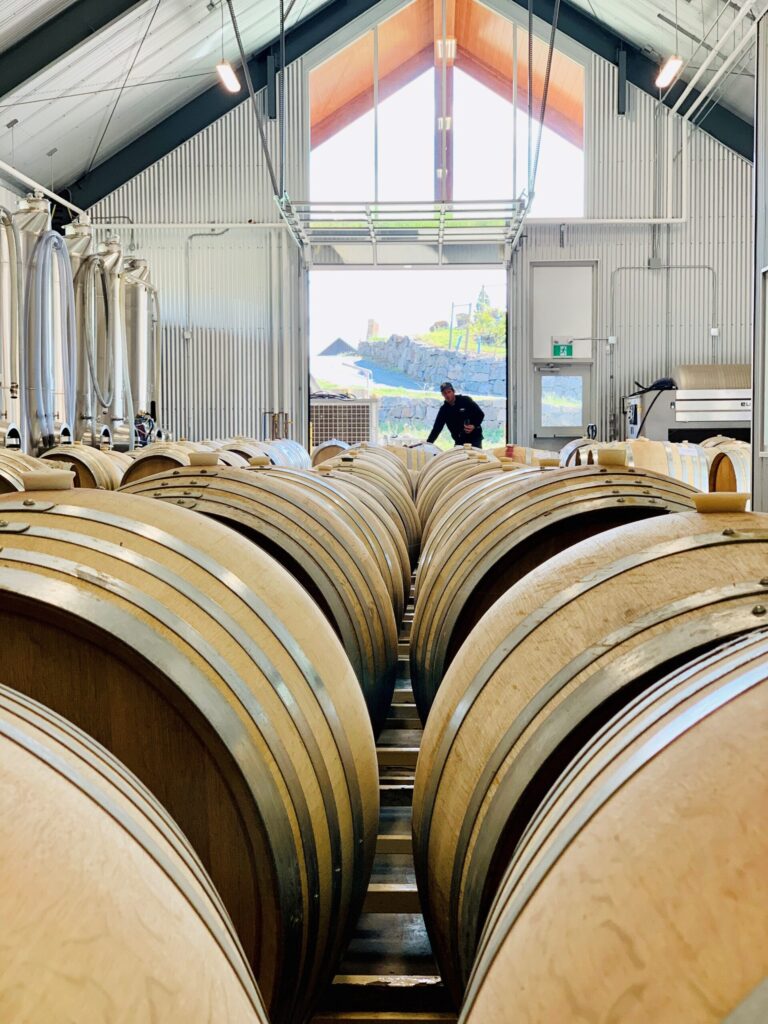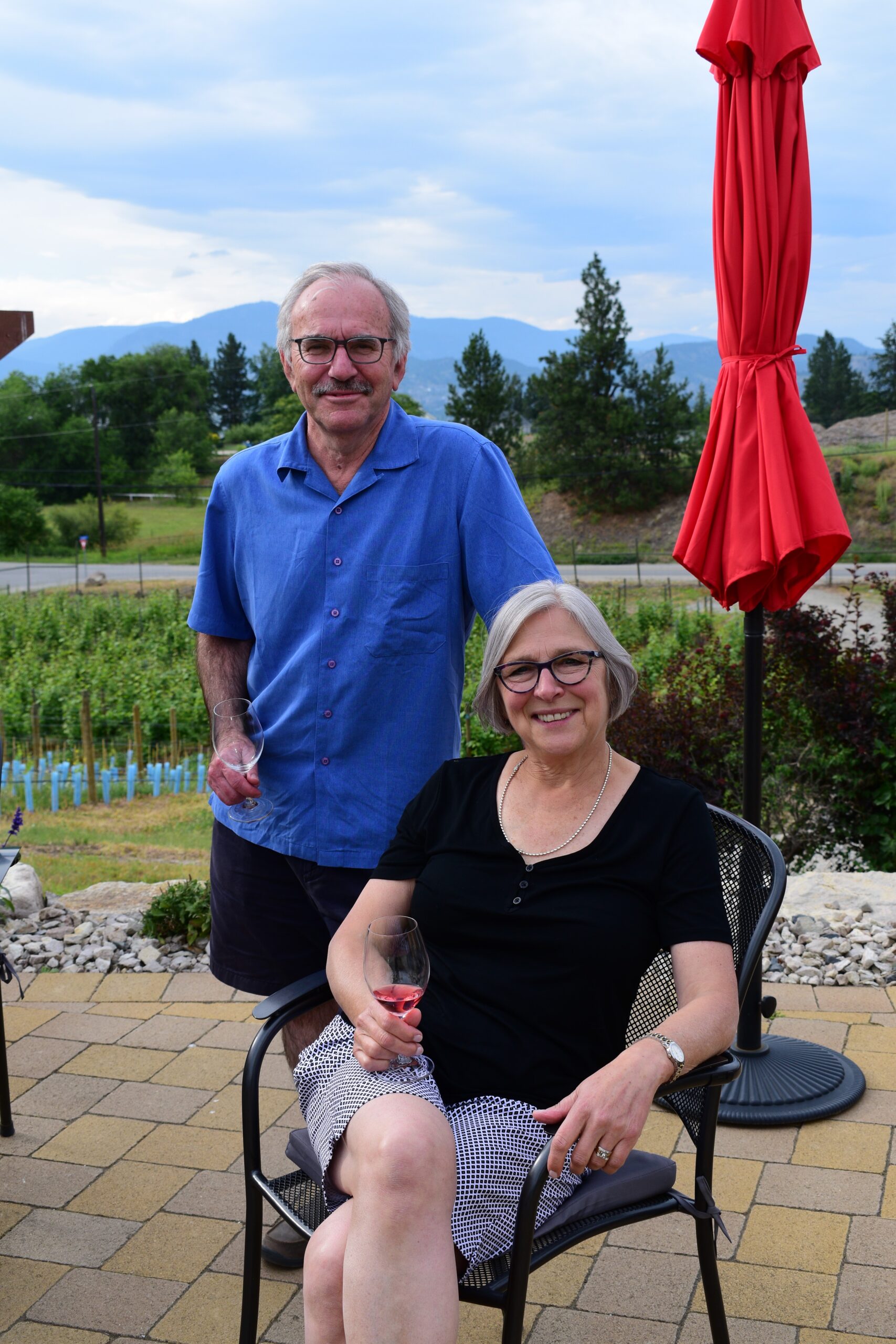 Your Exclusive Offer from SpearHead Winery
This exclusive offer from SpearHead Winery will arrive at your (or your gift recipient's) door with the following treats:
2018 Clone 95 Chardonnay
100% Chardonnay from Clone 95 grapes grown on Naramata Bench and the South East Kelowna Home vineyard. Lime, green apple and flinty on the nose followed by lemon curd, butterscotch and bright acidity on the palate. Beautifully balanced. Hand harvested and whole cluster pressed. Fermented and aged in French oak (40% new) both large puncheons and standard barrels. Partial malolactic fermentation and resting sur lie for 10 months brings a touch of creaminess to the party. One of my current fave BC Chards and showing so nicely now. Those who exercise patience and tuck it away for a year or two will be rewarded! (Drink now to 2025).
Gold Medal Winner at the 2020 All Canadian Wine Championships
2018 Saddle Block Pinot Noir
A blend of 4 different Pinot Noir clones grown on the Home Estate's Saddle Block. Medium bodied, layered with dark cherry tones, earthiness and a touch of exotic spice. Rich, concentrated and complex. Soft, silky tannins. Hand harvested, de-stemmed, indigenous yeast fermentation with 16-21 days on skins followed by gentle press. Aged 13 months in French oak (25% new). It would be hard to not pop this deep beauty open pronto! (maybe with some of that delicious chocolate…) (Drink now to 2028).
Platinum Medal Winner at the 2020 BC Lieutenant Governor's Wine Awards
Silver Medal at the 2020 All Canadian Wine Championships 
2018 Pinot Noir Cuvée 
SpearHead's benchmark wine. This 2018 vintage is a blend of 6 clones from Golden Retreat Vineyard (Summerland) and the Home Estate. Floral and earthy, dark red and black fruit with something herbal. Soft and juicy elegance dancing with power. Aged 13 months in French oak (40% new). I'd hide this bottle away for 1-2 years to give it some more time to unfold, or give it a good decant if you can't wait that long! (Drink now to 2030)
Platinum Medal Winner at the 2020 BC Lieutenant Governor's Wine Awards
64% Madagascar Dark with Cherry & Tonka Beans (80 gram bar)
2020 International Chocolate Awards winner Karat Chocolate works with local farmers and businesses who are synergistic with Karat's commitment to the environment and community. Each Karat bar is handcrafted and wrapped and contains what Karat selects to be the best single origin cacao and chocolate. This one is simply delicious. Rich chocolate with dark cherry tones. I'd have a hard time sharing this one!
Each SpearHead pack will also include a printed TT Wine Card in my usual style with notes about the wines and a few pairing ideas.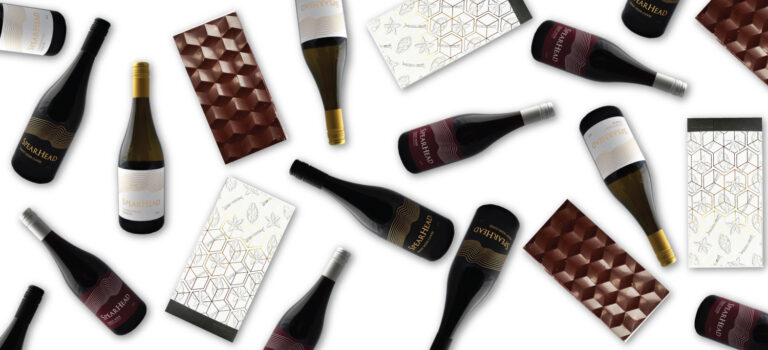 Offer & Purchase From Winery
This Exclusive Offer from SpearHead Winery has now ended. Stay tuned for the next TTWC Wine Club Offering! (Please note that this offer is extended to you by SpearHead Winery. If you choose to order any of this particular wine selection, you will be purchasing the wine directly from SpearHead Winery, Licensee #304035, 3950 Spiers Road, Kelowna BC V1W 4B3).
Your wine will be delivered to you by ATS, Canada Post or other carrier chosen by SpearHead Winery. (Wine purchased pursuant to this offer will only be shipped to British Columbia addresses).
Please include any special delivery requests or instructions in the Delivery Notes portion of the order form.